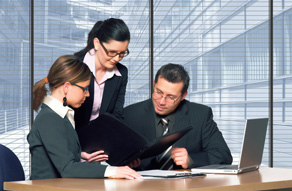 Product Information
Solutions
Downloads

IncidentMonitor™ ITIL® Service Desk and Asset Management
IncidentMonitor™ Asset Management provides end-to-end lifecycle management of your assets. It is integrated with all ITIL processes (Incident, Problem, Change, Service Asset & Configuration (CMDB), Service Requests, Event Management, etc.) and all non-ITIL, customer-defined processes (Bug Tracking, Facilities Management, Employee Management, etc.). You can track IT assets, non-IT assets and any custom asset types (vehicles, furniture, etc.).
Define Your Asset Class
You can easily define any asset class including the information tracked per asset type. For example, you can define an asset class of "Printer". For the Printer asset type you have the option to track financials, maintenance contracts, topologies, network events, custom fields (custom attributes), changes logged, etc. You can also define an asset as a consumable asset.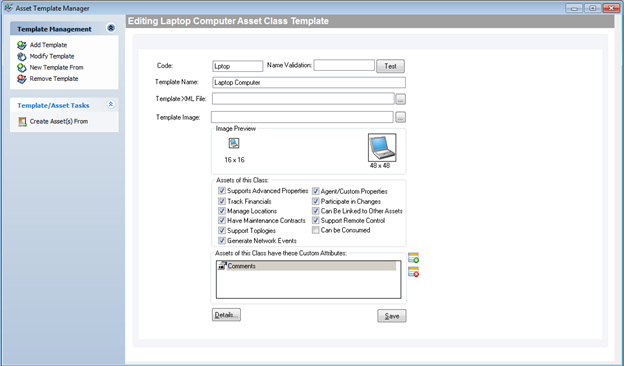 Load Your Assets Into IncidentMonitor™
After the asset class has been defined, you can populate the asset database by a click of a button. You click the "Build Class Template" to create an Excel spreadsheet with your asset properties, including any custom fields. Your enter all asset data for the class in the spreadsheet, then click "Import From Spreadsheet" to populate the asset data…it's that simple!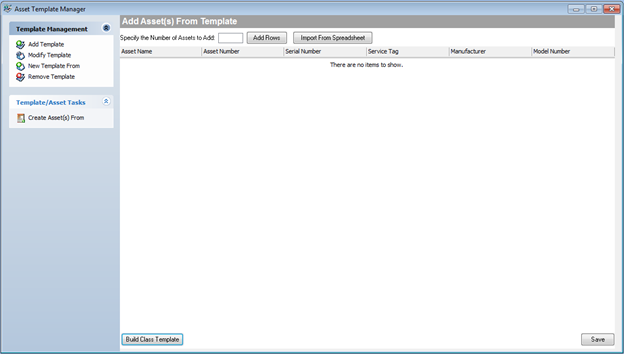 IncidentMonitor™ also integrates with any corporate asset inventory solution to populate the asset database. We provide and out-of-box integration with Active Directory and Microsoft System Center Configuration Manager.
Access All Asset Data From Any Process
Because Asset Management is tightly integrated with all out-of-box or custom processes, your service desk staff has full access to all asset details from a new or existing ticket.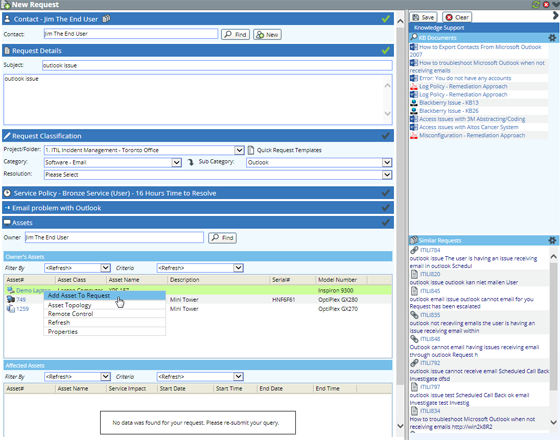 Instant access to asset information gives your service desk all information required to quickly address your customers' issue and provide the level of service your customers deserve.
Quick Links Speed Up The Process
The asset window is designed to present relevant information in a clear and easily accessed format. Your service desk agents have full access to critical information such as asset properties, location, asset topology. In addition, agents can quickly view the asset history and open changes logged against the asset!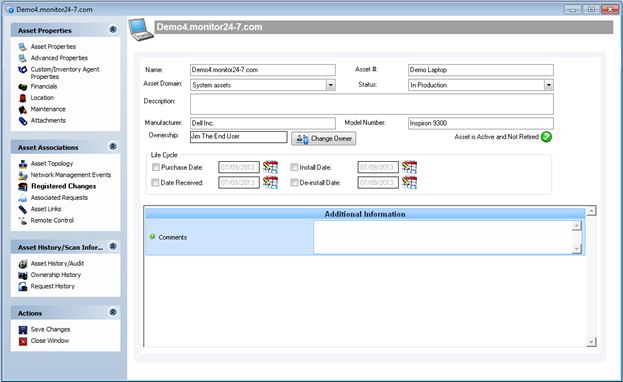 View the current asset inventory details. IncidentMonitor™ includes a proprietary inventory agent which itemizes everything about the machine - including software! Configure your software items as consumable assets within IncidentMonitor™'s CMDB and you have automated license tracking or as ITIL refers to it, a Definitive Software Library (DSL), with inventory controls!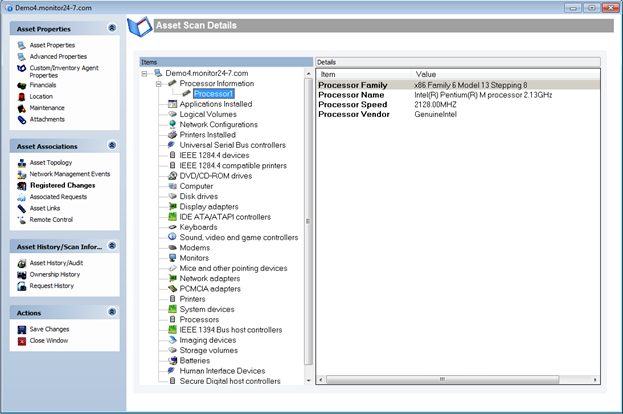 Integration with Event Management/corporate monitoring solutions allows you to view all events logged against the asset. Events can be managed through this and drilled down to see the specifics of the event. With IncidentMonitor™'s bi-directional interface events can be managed with a full feedback loop.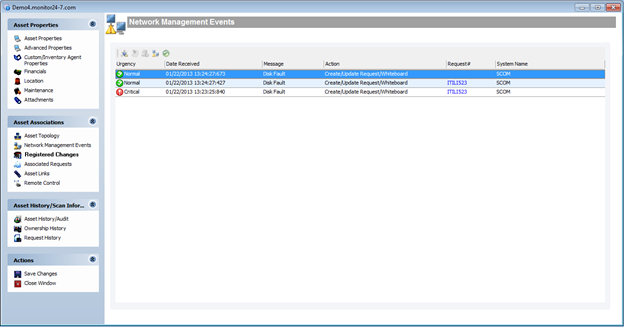 Additionally, when viewing the the topology visual indicators are given as to whether or not recent changes or network management events have been applied to any assets to expedite resolution and post change impact discovery.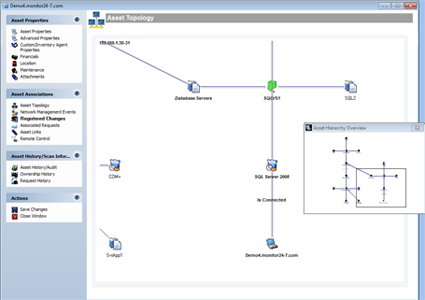 With a single click you can view ALL registered changes for the Asset/CI. This coupled with the topology view provides a very precise interface to determine impact analysis before change implementation - at any time throughout the Change lifecycle.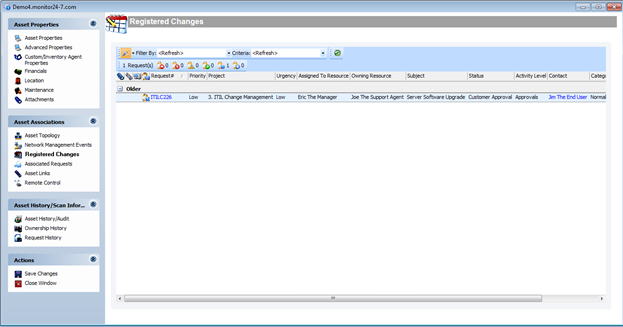 The complete history of requests applied to a given asset are easily retrieved for determination of problem assets - this is across ALL processes within an IncidentMonitor™ installation. Icons in the view provide quck indicators whether or not we met or missed the SLA, any links to other request and attachments associated with the requests (this is standard in all request views).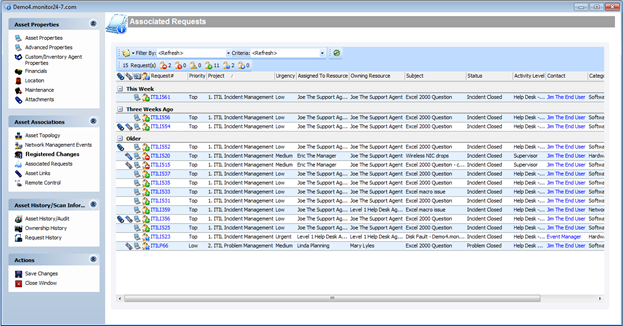 Manage Your Consumable Assets
Consumable assets are very difficult to manage. Companies waste a lot of time and money because of the issues associated with managing consumable assets. IncidentMonitor™ has addressed these issues by providing a simple, yet robust approach to efficiently manage consumables and provide cost savings to the business. Following is an overview of features for managing consumables:
Asset classes can be defined as "Can be Consumed". This triggers the consumable functionality within IncidentMonitor™
The "Purchase History" link is available for consumable assets. This feature simplifies purchasing and purchase history. Inventory available is visible and a reorder level can be entered. When the reorder level is reached, the appropriate person within your organization is notified and can act on this information.

IncidentMonitor™'s inventory agent will automatically associate any consumables with the main asset and update the units available. The integration with corporate inventory tools will also update the main asset with consumables. Automating the association of consumables with other assets is a key component in simplifying the management of consumables. This process has removed any guesswork and reduced the cost of managing consumables! We're talking about software, hardware, printer toners.. anything that can be consumed and you get a view both ways from the consumer and the item consumed.
ITIL Workflow and Service Catalogue Form Designer
IncidentMonitor Service Desk Software offers a workflow designer which helps you to create the most advanced process flows within a few clicks. Combine this Graphical designer with our Graphical Service Catalogue Form Designer and you get the most advanced and flexible solution.