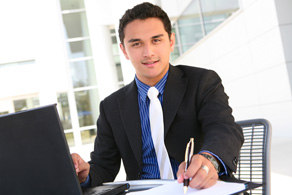 Product Information
Solutions
Downloads
IncidentMonitor™ ITIL Service Desk Software and Help Desk Reporting & Dashboards
Continuous improvement of your service is only possible with the right information. Service Desk Metrics, KPI's provided via dashboards and reports are key for the support agent as well as management. Both from a different perspective but both necessary.
Dashboard
IncidentMonitor ITIL Service Desk Software provides an extremely flexible set up of a dashboard. Based upon your profile you can select the widgets and sort them the way you like. A manager is probably more interested in high level stats for Service Level Management where a support agent prefers to see how he is performing within the SLA and how many requests are in the queue for example. Some ITIL Service Desk dashboards below.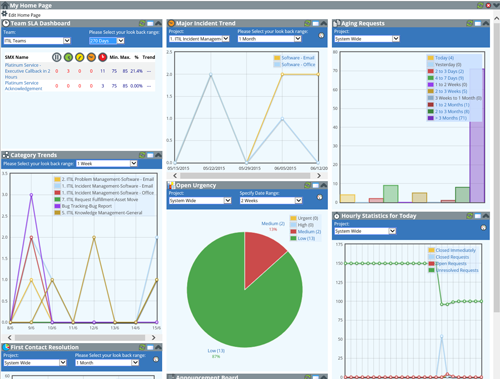 Out of the Box Reports
IncidentMonitor comes out of the box with hundreds of ITIL ITSM and service reports. All nicely layed out. Some with graphs, some interactive, some simple but effective listing. Alle reports categorized for ease of use.
All reports can be downloaded directly to PDF, XLS or HTML. So there is always a solution that matches your needs.
As it is easy to receive the reports you are interested in in your mailbox or publish reports regularly on the intranet we have developed a reporting scheduling solution. All reports in the service desk system can be created automatically, emailed to interested parties and published on a specific file location. No need to worry about manual creation anymore. This service allows all service managers to keep a continuous eye on SLA's and performance.
As you don't want to give all your users access to all reports as some reports might contain confidential information it is possible to control the accessibility based upon the users security role!
And last but not least. Interested in adding your own reports to this section? No problem! Create your report by using your own tools or our report query tool, add to the correct location, set the security privileges and done!
IncidentMonitor ITSM software provides SLA information to meet all requirements.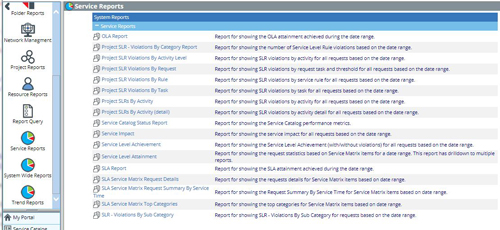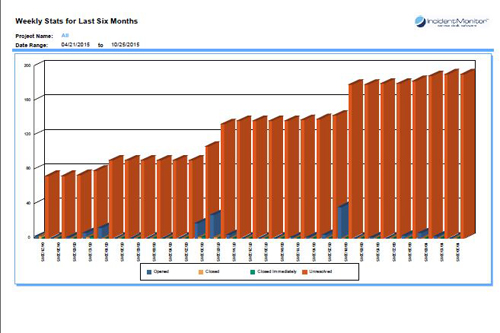 Service Management Report Query Tool
In order to extend the flexibiltity of reporting we developed a solution with which you can basically do whatever you want! Create your own query, select the columns you like to see in the report, add custom fields, select the columns you like to see and click RUN. A flat file with all data will be produced within seconds. Only one click away from Excel or flat txt. Selections created can be saved for future use or can be pushed directly to the standard reports so they can be used in any reporting schedules. This extraction from our service desk ticketing tool helps to quickly build your own reports. The service desk software is focused on both high end companies as well as small and medium sized service desks. As all have Excel anyone can create the most advanced service reports they need!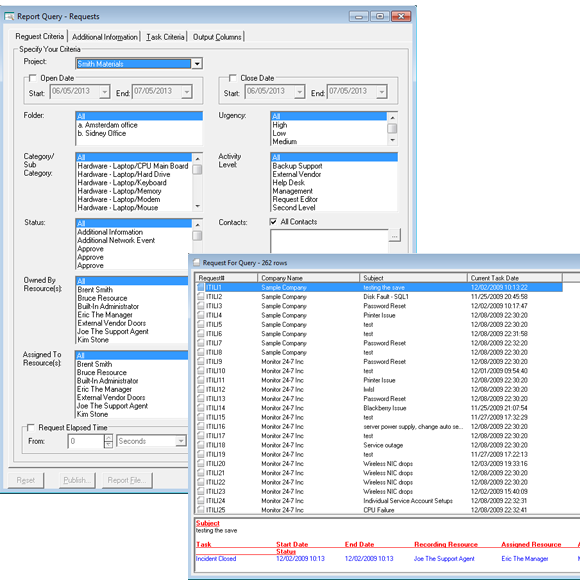 Direct export from list views
The report query tool allows you to create your own filters and run a flat file report. An even easier solution to quickly run a report is to export any list from the service desk portal directly to excel. As you can define in any list which columns you like to see and in which order you like to see them, this can be a very handy report.
Any list in IncidentMonitor, for example your My Request or Team overview or your incident management software overview can be selected, right mouse clicked, and exported. As you probably don't want to see everything you have the option to define which columns you like to export. Exports can go directly to Excel.
If this solution works well for you and you have set up your filter, save it as a template. And run it whenever you want with only two clicks!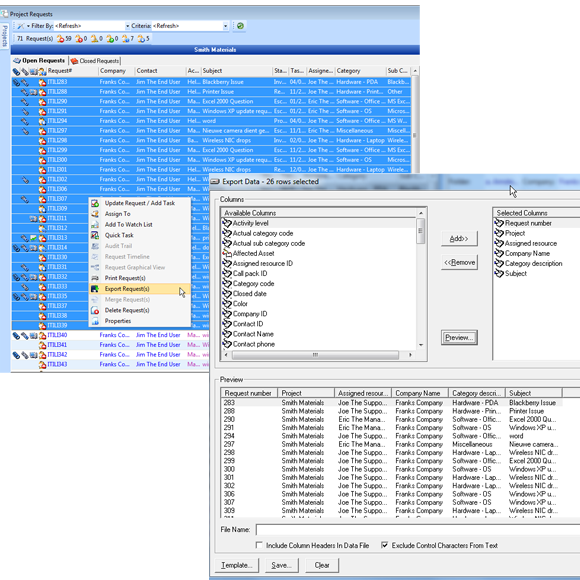 Prefer to use your own reporting tool linked in to our service desk software?
That is no problem. All the database views are delivered with the application as well as an API. The Monitor 24-7 support team is always available to support you with any report specific question to assist you in creating your own unique reports. The flexibility of the IncidentMonitor Framework allows you on top of that to add your own reports directly in the left menu navigator. Giving you the option to run your own reports directly from the IncidentMonitor Service Desk Portal!